Leaving those beautiful Redwoods, Mike and I headed North to my new home: Seattle!  Or technically, Redmond.
I haven't lived through a winter here yet, but the city really is a beautiful one:
Trees line the avenues of the city, and between Puget sound and the mountains surrounding it, you get quite a view.
As you might have guessed, this picture is from the Space Needle.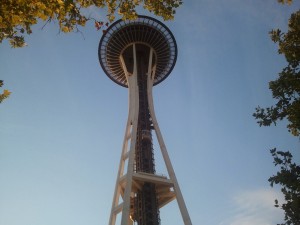 Most of you know about the Space Needle, but you might not know all of it's history.  It was built for the 1962 World's Fair, at a cost of $4.5 million.  Incredibly, it was almost never completed because a suitable plot of land couldn't be found.  Since it was being privately financed, it couldn't be built just anywhere, and had to be within the area designated as the fairgrounds.  Just before the whole project was abandoned, a 120′ x 120′ plot was discovered, only 13 months before the fair was due to open.  The construction crews worked round the clock to build it, and completed it four months before the opening ceremony.
The Space Needle averages a little more than million visitors every year.  At an average ticket price of about $25 (just to go up is a bit less, depending on the time of day, but this doesn't include gift shop purchases or the restaurant at the top), the Needle actually does pretty good business!
If you've never been to Seattle, Redmond is located directly across Lake Washington, in the 'greater Seattle area'.  It's a very nice spot, and a true technology hub, housing many, many tech companies, including Microsoft.  Redmond has a ton of trees, and combines natural beauty with all the benefits of living in a modern suburb.
But I didn't come for the scenery!  I came for this:
OK, not specifically for the sign, either.  I came for the school (not pictured).  For those who aren't familiar with DigiPen, it's a very focused university, specializing in video games.
Yes, you read that right.  Video games.
But in case you're thinking I've come to Seattle to spend my days playing games, let me assure you that isn't the case.  I've only just started my new program, but on day 2, I've already spent 3 hours working on a math assignment, have a project due next week, and will be starting to learn the C programming language as of tomorrow.  I've also been shown some incredibly cool tricks that no other professor or teacher ever taught in all of my previous years of schooling.
DigiPen is a highly respected institution, especially within the game industry.  It was founded by a former Nintendo executive who discovered that it was nigh impossible to find extremely high quality programmers, and decided to form a school to train them.  Part of the reason that DigiPen is so well-regarded is that the students actually create games from their first semester at the institution.  This means learning C and C++ (two extremely important programming languages used in all sorts of applications), advanced mathematics, computer engineering, and many other disciplines.  It also means that the average course load is 20 credits a semester.  As was repeated by both the students and faculty over and over at orientation, this means spending your days at school studying, and unfortunately, not playing video games.
DigiPen has the reputation that, if you can survive all four years, you can pretty much go to any company, and program anything they need.  Or if you happen to be an art student, go to the very best animation studios in the world (like Pixar).
So at the end of one journey, I'm just beginning another.  With any luck, I'll manage the winding path, and find a new one at the end of it.
Thanks to all of you who shared my travels with me.  I'll be posting at least once a week about my new adventures at school, and I hope you'll follow along!
Keep writing.  Keep traveling.  Keep moving forward.
Jon