The final leg of my cross-country journey is upon us, folks.
After spending more than a month on the road – and as much as I've enjoyed visiting friends and family, seeing incredible sights, and meeting new people – I'm definitely ready to wrap things up.  But there's still one more person to see, and a few places to visit.  My stays were brief, but they definitely left an impression.
My first stop after leaving LA was the unique cultural center that is the city of San Francisco.
San Francisco (SF) is different than any other city I've ever visited.  First off, driving into the city is quite spectacular.  I crossed by taking the Bay Bridge, and despite the unexpectedly heavy toll ($5 for a car after rush hour!  Can you imagine making that trip every day?), the view it offers of the city as you enter is really something.  And again, through my fortuitous timing, I arrived as the sun was setting, giving all the buildings quite a glow.
Because the bridge is so elevated, you come into the city well above ground level, and taking the off ramp to snake between the buildings at night really reminded me of some futuristic city-scape with massive highways high above the ground.  It's pretty neat, but I won't mention any specific books that might remind you of places like that.  But they're great books, I assure you.  By very, or soon-to-be very, illustrious authors.  : )
Once you hit the ground in SF proper, the famous hills of the city suddenly present themselves.  I imagine they would get old fast, but when you're driving them for the first time, they are a ton of fun.  At least if you're in a small, manual transmission vehicle.  I can see why so many chase scenes are done there.  But I seriously pity truck drivers who have to go into the city to deliver goods.  The hills are incredibly steep, and constant.  No matter what direction you're going, you will go up and down hills.  It's got to be brutal driving a semi there.
As a side note, with no offense intended to the good folks of San Fran, but WHAT THE HECK IS WRONG WITH YOU PEOPLE?  Seriously, I've never seen so many people blindly walking into the street and nearly getting creamed every single moment.  Even compared to a place like New York.  At least wait for the lights to be green in your direction!  I swear one guy was less than a second from dying when he stepped out in front of a truck.  Fortunately, the driver obviously knew what he was doing – I'm not sure I would have been able to stop in time!
Anyway, the next thing that hits you about SF is the cool air.  San Francisco is really, incredibly, cold.  We are taking 'middle of August, I had to put on a jacket to walk outside' cold.  Don't ask me how Seattle, hours North of it, can be in the upper 70s, low 80s, and San Fran can be in the 50s, but it's true.  It's actually quite nice in many ways, but it's a bit shocking when you're coming from a hot environment like LA.  The only advantage is that is stays pretty much the same, year round.
But I didn't come to San Francisco for the weather.  I came to see my old college buddy, Mike, who's lived here for the last few years.  He's just a few blocks from Market Street, one of the main areas of the city.  Since he lives in the heart of SF, I managed to get a small taste of the city, both literally and figuratively, though not as much as I would have liked.  There must have been a hundred restaurants in the two blocks around him, and I had the chance to try a few.
The best of my brief taste was a little french cafe we went to for breakfast  in the morning before I left, where I enjoyed some delicious Eggs Benedict that wasn't too expensive (relative to SF).  Unfortunately, I discovered at that moment we were literally right across the street from Chinatown, and that I missed the opportunity to try out some delicious Chinese food the previous night.
Oh well.  After breakfast, I headed out for the final stage of the journey.  Heading along the Pacific Coast Highway and up to the coastal Redwood forests.  Mike had never seen them, or any of the Pacific Northwest, so he had decided to tag along.  We left via the Golden Gate Bridge, which is perhaps even more impressive than the Bay Bridge, and headed North.
I'm glad we left so early, because Google Maps is not at all accurate about the time it takes when you go the scenic route.  Plan on a least doubling the length of time you think it will take.  It's a gorgeous set of views, though!
Looking back at these photos, I realize I might have had a few really good shots if I had brought a better camera.  But it's hard to beat the convenience of a phone.  As for the highway itself, it's definitely worth the drive, just prepare for long stretches with no civilization if you go!
We finally got far enough North after about 8 hours of driving to see these guys:
Many of the redwoods can be seen right off the highway, without even leaving your car, but the largest ones are a bit off the beaten path and require a little walking.  It's a little deceiving in these pictures how big they are, as you don't really have a sense of scale, so here's a picture of Mike standing in front of an average-sized one: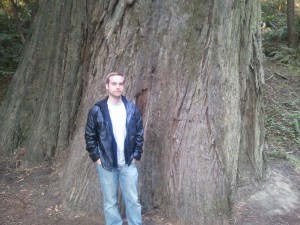 That's a big tree!  And keep in mind, these are the coastal redwoods, which means they grow taller, but they're not as thick as the inland ones.
There are actually three species of redwoods trees, which grow in different climates.  The coastal redwoods grow to be the tallest, up to about 379 feet tall, and can live for over 1800 years.  I couldn't get a picture that really captured their incredible height, so just know that these trees are taller than the Statue of Liberty from the bottom of its pedestal to the tip of its torch.
Walking through the trees, you really feel a sense of awe and respect for them.  And the forest is incredibly still and silent.  It really gives you the feeling of something frozen in time, and you half expect to see a dinosaur wander from between their branches at any moment.  I plan on making a return trip someday to really camp and appreciate the woods more intimately than my brief wandering.
We took the next few days to hang out in Northern CA, right near a town called Crescent City.  It's pretty small, as you might imagine, but it was actually fairly busy, as we came right in the heart of the tourist season.  Crescent City doesn't have much to offer, but it does have a really nice bed and breakfast called the BnB Hiouchi.  Curt, the owner, and his wife, gave us a good deal on a couple of bedrooms and were very accommodating during our stay.  Curt's a great cook, and we had some fantastic breakfasts with freshly made muffins, home fries, eggs, and fresh fruit.  In case you visit, he'll also do dinners, although we didn't try them out.  I understand that those are excellent as well, from talking with the other guests.
The only other thing that goes on in Crescent City is fishing.  Lots of fishing.  The area is known for its salmon, and we headed out early one morning to try and catch ourselves a King or two.
Unfortunately, we quickly learned that the best fishing ended the previous week.  So instead of catching our limit in about an hour, as had been the case for the previous month, we spent the time desperately trying to reel in the two bites we got over the course of the morning.  I guess by the time we got to them, only the smart fish were still around…
In case you didn't know, California and Oregon use barbless hooks, which means that you have to keep constant pressure on the fish in order to bring them in.  This means reeling really, really fast.  It's gets tiring very quickly, and both fish we hooked leapt to freedom once they got to the surface, jumping to loosen the hook and swim away.  It was definitely a bummer, although I suppose it was alright in the end.  I'm not sure what we would have done with the fish, other than smoking and shipping them, or giving them to Curt to cook up.  We learned later that day we were far from the only group to get skunked, as well, so we decided not to feel too bad about our performance!  It had been the worst day of the season so far, for everyone in the area.
But I can guarantee you that the fish we almost got were – spread your arms as wide as you can – at least that big.  : )
Well, with that fish tale, we're at as good a place as any to land this whopper of a cross-country trip and head home.
It's time to reach the end of one journey, and start the beginning of another.  Next stop,  Seattle.  See ya there!